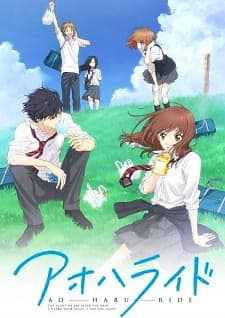 Dear Entertainment Diary,
I'm back! And this time, to write about a good anime with so many themes and lessons to learn and teach our heart which can be used in our daily lives,
So, it's title is Ao Haru Ride / Blue Spring Ride in English, which is all about love, friendship, family, and friends. It shows so many different characters and emotions, and shows some events that can really happen to someone.
It merely tells about the lost relationship between two of the five protagonists of the series, Futaba Yoshioka and Kou Mabuchi. They actually mutually felt love for each other during middle school but suddenly, Kou just left without saying any goodbye to Yoshioka.
They met again in high school, but Kou already changed everything about him, including his last name. Yoshioka, who is a cute girl, also changed herself to annoy guys around her since she will be again disliked by the jealous girls in her class.
As I said earlier, it's also about friendship, family, and a whole lot of rides. Us all can relate on each episodes. On how hard we have to keep our feelings to our crush. On how we and our friends have the same crush. On how it is so hard to study. On how hard to lose one parent. And most especially, on how it is so FUN to have friends beside you.
I'm telling you, this anime is a one fun ride. It's only 12 episodes and I hate its shortness but what the f, I still enjoyed it.
P.S. It already has its live action film adaptation and I have a copy of it. I just don't know when to watch it, yet. :)