Moon Embracing The Sun Poster
I'm so excited to write a post about the BEST Koreanovela of the year, although 2012 isn't going anywhere yet any sooner.
I've seen many posts about this koreanovela and guess what, they are all positive. They said that the whole casts, including the young ones, are all very good, actually, EXCELLENT actors. This drama is sooooooo good that it won for best drama and best actor award at the 2012 Baeksang Art Awards.
To tell you honestly, I have no background yet about what is going to happen in the series. I chose to not read the plots or summaries all over the internet to avoid spoiling the show for me to watch it wholeheartedly and that I may experience all the kinds of emotions what the show wants me to feel. Who would like to watch a show where you already know what'll happen next? (Actually,when it comes to movies, I do. LOL. But not in this one).
It was originally ran in Korea months ago, from 4 January 2012 – 15 March 2012 on MBC, great way to start 2012, right?
Yeo Jin Goo (여진구) as young Hwon & Kim Yoo Jung (김유정) as young Yeon Woo
Ok. So when I was watching another historical drama, which was DONG-YI, online (I got addicted to this drama which is thus far my most favorite historical drama yet), I read some posts that Moon Embracing The Sun is better, so I got excited about it and promised myself to watch it after Dong Yi, but due to school (I haven't graduated at that time yet) and some happenings, I wasn't able to watch it. So when I heard that GMA, the kapuso network, picked up the rights for the series, I got excited and felt very happy. The show that I've been longing to watch for months is going to be aired in GMA. Wow!
But last week, I got disappointed because of its time slot which is 6:00 p.m., a very unusual time to air Asianovelas. I thought they would put it to replace Lie To Me, which I also thought would end last week because they CUT so many scenes. But hey, I can't do anything so I just ride with the Entertainment's flow. And I just watched the first episode today, it just finished half an hour ago, with NO COMMERCIAL BREAKS! I just hope they won't cut scenes in this series like what they did to Lie To Me. I want to watch it perfectly, flawless.
Here's the PLOT of MOON EMBRACING THE SUN from WIKIPEDIA: (Don't worry, to those who haven't watched it yet, it won't spoil anything):
"Thirteen-year-old Heo Yeon Woo is chosen to become the Crown Princess of Joseon until the Dowager Queen plots against her and secretly orders her death. With the help of a powerful shaman's magic, Yeon Woo escapes with her life, but loses her memories. All believe her to be dead, including the Crown Prince Hwon, who loves her and whom she was to marry. Eight years later, Yeon Woo returns as a shaman named Wol. She has not been forgotten by those she left behind, and her fate is still intertwined with Hwon, who is now the king. She must contend with the current Queen of Joseon, the Queen's Father, and the Queen Dowager in order to reclaim her rightful place as Queen of Joseon."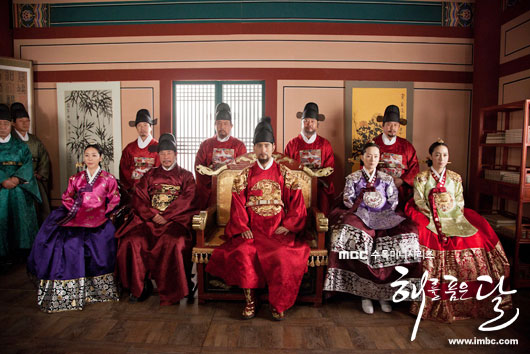 The series featured the actresses, Kim Yoo-Jung who played the young Dong-yi as the first moon, who is very talented and cute and also Yang Mi-Kyung, who played Lady Han in Jewel in the Palace, who I miss very much!
While watching the first episode, i can't barely take my eyes off in the television. I actually had to pee, but because there are no commercial breaks, (genius GMA), I held it in until the show was finished. HAHA! That's how good the first episode is. I'd rather die due to U.T.I. than to miss the show. KNOCK ON WOOD.
I am so excited to watch the next episodes. If the time comes that I can't wait, HA! I'll watch it online and won't stop until my eyes hurt, my neck hurts, my back hurts, and any other parts of my body hurts, including internal parts! (Just kidding).
So far, I believe in the posts, comments, and critical receptions received by this show all over the internet. I hope it'll maintain my expectations until the end.
You can watch it on GMA NETWORK every night at 6:00 p.m., befor 24 ORAS, without commercial breaks.
You can also watch it online. Mysoju, dramacrazy, any other sites. :)
and all over the internet.
By the way, I almost forgot. The theme song of the series (Filipino version of course), was sung by Frencheska Farr entitled Inside My Heart. It's also a good love song.
The copyrights of the images go to their respective owners.